Canon 28-105mm EF USM f/1.3.5-4.5 Lens
LIKE NEW CONDITION
Including the following (58mm)…
-EW-63 Lens Hood - Canon (in original box)
-UV Protector - Tiffen (in original box)
-Cir. Polarizer Tiffen
-Star 4pt.2mm Tiffen (in original box)
-N.D. 0.6 Tiffen (in original box)
-80a Tungsten Tiffen (in original box)
-FLD Fluorescence Tiffen (in original box)
Most of the Tiffen Filters have never been used, or used only once.
•I would prefer to sell the Lens, UV Proctor and Filters as a package. $235.00 •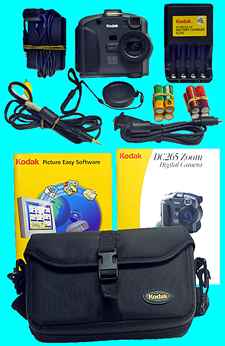 Kodak DC265 with extra accessories including Kodak bag with shoulder strap, AC battery eliminator and16MB Compac Flash card.
Features/Benefits: * Photo-realistic 8" x 10" Prints: 1.6 million (1536 x 1024) pixel Megapixel Plus resolution - provides enough detail for spectacularly sharp, colorful, photo-realistic 8" x 10" prints.
* 3X Optical Plus 2X Digital Zoom. Gets you closer to your subject. Lens optically extends to 3X with no loss in image quality. Plus, for added flexibility, the camera can digitally zoom in an additional 2X. And you can preview your shot on the LCD, to make sure it's perfect.
* Intelligent Camera
DIGITA Scripting gives you the flexibility to do more - telling the camera exactly how to execute complex operations with "point-and-shoot" simplicity. Take multiple pictures at pre-determined intervals. Program settings for different conditions. Or tag images to organize pictures and improve workflow.
* USB Support for Faster Downloads
Full MACINTOSH and WINDOWS USB support, for fast, easy picture downloads. Or choose serial, PC card or IrDA connections.
CCD Resolution: 1548 x 1032 pixels
Image Resolution: 1536 x 1024 pixels, 1152 x 768 pixels, 768 x 512 pixels
Image Quality Settings: Best, better, good ("Super" with script override)
Image Storage: 16 MB KODAK Picture Card included. Stores 28 to 180 pictures
Viewfinder: 2.0" TFT color LCD for review and preview, plus real-image optical viewfinder
Lens: Auto focus 3X zoom
Interface: USB, PC card, serial, IrDA1.1(camera-to-camera or camera-to-PC).
COMPLETE SPECIFICATIONS ON REQUEST. All in excellent condition.
This is an older digital camers but the pictures are SUPER! $65.00.
TIFFEN 52mm Filters
Haze 1 Filter (NEW) $8.50, ND 0.6 in Pouch $10.00, Circular Polarizer in Plastic Holder $23.50, UV Protector $5.50.
All 4 for $45.00.
TIFFEN 52mm Filters


SOLIDEX Excelcharge VC-88 Battery Charger for Camcorder NiCad batteries. Charges Panasonic, Sony, Canon, and Sharp Batteries. Has REFRESH button so batteries can be discharged (cycled) before charging. Input: 12v DC. Input Capacity: 1A. Output: DC 7.5v 1A. Exellent condition, only used a few times. Cost $30.00. Sell for $18.00 plus shipping which will be calculated using your zip code.